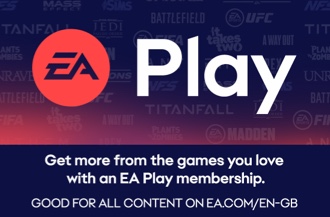 Electronic Arts UK Gift Card
Redeem online.
The Electronic Arts UK e-gift card can be paid for with credit and debit cards, and digital currencies, like bitcoin, bitcoin cash, ethereum, dogecoin, litecoin or ripple.
This gift card can be redeemed in United Kingdom. You will earn GO Points when you buy this gift card.
---
Get great PC games from franchises like The Sims™,Battlefield™, EA SPORTS™ FIFA, Dragon Age™, Need for Speed™ and more! Use this gift card for EA PC purchases, including full games, DLC, & EA Play subscription.
VISIT ELECTRONIC ARTS UK
Redemption Instructions
This gift card expires in 3 years.
EA Gift Cards can only be redeemed once and cannot be reloaded, resold, transferred for value, refunded (unless required by local law) or redeemed for cash or applied to any other account. Risk of Loss and/or Damage post purchase. You are solely responsible for the EA Gift Card once purchased. EA is not responsible for lost, damaged or stolen EA Gift Cards. IMPORTANT NOTICES: IF YOU HAVE NOT REDEEMED YOUR EA GIFT CARD INTO YOUR EA WALLET AND/OR SPENT THE ASSOCIATED FUNDS FROM SUCH EA GIFT CARD WITHIN 3 YEARS FROM ITS DATE OF PURCHASE, WE HAVE THE RIGHT TO EXPIRE YOUR EA GIFT CARD OR ASSOCIATED FUNDS BALANCE AS APPLICABLE FOR NON-USE.
Redeem your EA eGift card here: www.ea.com/redeem
Terms and Conditions
© 2020 Electronic Arts Inc. EA, the EA logo, Battlefield, Dragon Age, Need for Speed and The Sims are trademarks of Electronic Arts Inc. FIFA is the property of its owner and used with permission. NO VALUE UNTIL ACTIVATED - GOOD FOR ALL CONTENT ON EA.COM This EA digital Gift Card ("EA Gift Card") is issued by EA Swiss Sàrl and redeemable at www.ea.com/redeem for use in EA online Gift Card enabled stores that EA offers from time to time. This card can only be redeemed once. For the redemption of the EA Gift Card, Internet access, the registration of an EA account, EA Wallet and acceptance of EA's Wallet & Gift Card Terms and Conditions (see www.ea.com/ea-card-terms-and-conditions), User Agreement and Privacy & Cookie Policy, (see www.ea.com/en-gb) is required. You can redeem this EA Gift Card only via an EA Wallet in the same currency. You can open, access and use one EA Wallet so the redemption of EA Gift Cards in more than one currency is not permitted. This card is valid only in the United Kingdom and you must be resident in the United Kingdom. To use your EA Gift Card with your EA account in the United Kingdom you must be at least 13 years of age. If you purchase this EA Gift Card through a retailer, that sale is made by the retailer acting as an agent for and on behalf of EA Swiss Sàrl. To use your EA Gift Card with your EA account in the United Kingdom you must be at least 13 years of age. WE RESERVE THE RIGHT TO EXPIRE THIS CARD IF NOT REDEEMED AND THE FUNDS BALANCE SPENT THROUGH YOUR EA WALLET WITHIN 3 YEARS FROM ITS DATE OF PURCHASE. ANY FUNDS BALANCE IN YOUR EA WALLET SHALL BE EXPIRED BY EA UPON CLOSURE OF THE EA WALLET SERVICE PROVIDED. EA SHALL GIVE AT LEAST 3 YEARS' NOTICE PRIOR TO SUCH CLOSURE.
What is Gift Off?
Gift Off is the quick and easy way to buy digital gift cards in the UK, Europe, the US, Canada, Australia and beyond. With over 940 gift cards available to choose from, you're guaranteed to find the perfect gift every time. What's more, you can earn as you spend with GO Points so you make savings on future purchases.