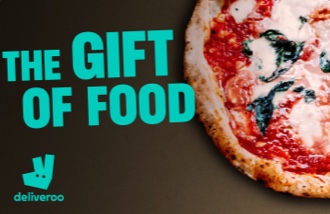 Deliveroo UK Gift Card
Redeem online.
The Deliveroo UK e-gift card can be paid for with credit and debit cards, and digital currencies, like bitcoin, bitcoin cash, ethereum, dogecoin, litecoin or ripple.
This gift card can be redeemed in United Kingdom. You will not earn GO Points when you buy this gift card.
---
Looking for a convenient and delicious gift idea?
Look no further than Deliveroo UK gift cards. With a Deliveroo eGift Card, you or your recipient can enjoy the convenience of ordering fresh food from a wide selection of local restaurants, cafes, shops, and takeaways, all delivered straight to your door or office. It's the perfect gift for foodie friends and family, allowing them to indulge in their favorite cuisines without leaving the comfort of home. Deliveroo UK gift cards are also a great way to reward your team for their hard work and dedication. And if you're looking to buy in bulk, simply email us at [email protected] and our team will be delighted to assist you.
Treat yourself or someone special to the gift of delicious meals with Deliveroo UK gift cards today.
VISIT DELIVEROO UK
Redemption Instructions
This gift card expires in 12 months.
How to redeem your Deliveroo UK gift card:
Place your order: Browse the available restaurants and food options on the Deliveroo app or website and select your desired items.
Proceed to checkout: When you're ready to place your order, go to the checkout page.
Enter the unique code: At the checkout, locate the field designated for gift card or voucher codes.
Redeem the code: Enter the unique code found on your Deliveroo UK gift card into the designated field.
Apply the credit: Once you've entered the code, click on the "Apply" or "Redeem" button to credit your Deliveroo account with the amount loaded on your gift card.
Enjoy your meal: The credit will be deducted from the total amount due for your order, and you can enjoy your delicious meal delivered straight to your door.
Important Notes:
Non-refundable and non-transferable: Once the gift card amount is credited to your Deliveroo account, it cannot be refunded or transferred to another account.
Valid in the UK only: Please note that this gift card is valid for use in the United Kingdom only. If you're looking to purchase Deliveroo gift cards for use in other countries, visit giftoff.com/gift-cards and select your country of choice.
Contact Customer Support: If you encounter any issues or have questions about using your Deliveroo gift card, reach out to Deliveroo Customer Support directly. You can find their contact information at deliveroo.co.uk/contact. Please note that they are unable to discuss specific account details with third-party providers due to data protection regulations.
Terms and Conditions
We want to make sure you have all the necessary information, so please take a moment to review the following terms and conditions:
Easy to use: Your Deliveroo eGift Card can be conveniently used to credit your Deliveroo account, allowing you to enjoy delicious meals from a wide selection of restaurants and food options available on the Deliveroo website or app.
Availability: Please note that Deliveroo operates within specific cities in the UK. You can check if your city is included on our platform to ensure you can fully enjoy the benefits of your eGift Card.
Hassle-free returns: We understand that circumstances can change, and we want to offer you peace of mind. If you haven't redeemed your eGift Card, you can request a full refund within 14 days of purchasing it from our website.
Redeemed value: Once you've used your eGift Card to credit your Deliveroo account and made a purchase, please be aware that the redeemed value is non-refundable. We want to ensure that you receive the full value of your eGift Card by enjoying delicious meals delivered right to your doorstep.
For a complete understanding of the terms and conditions associated with your Deliveroo UK eGift Card, we encourage you to visit https://deliveroo.co.uk/legal.
We hope you have an incredible dining experience with Deliveroo!
What is Gift Off?
Gift Off is the quick and easy way to buy digital gift cards in the UK, Europe, the US, Canada, Australia and beyond. With over 940 gift cards available to choose from, you're guaranteed to find the perfect gift every time. What's more, you can earn as you spend with GO Points so you make savings on future purchases.