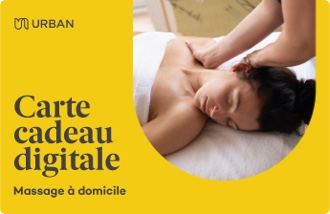 Urban France Gift Card
Redeem online.
The Urban France e-gift card can be paid for with UK and EU credit and debit cards, and digital currencies, like bitcoin, bitcoin cash, ethereum, dogecoin, litecoin or ripple.
This gift card can be redeemed in France. You will earn GO Points when you buy this gift card.
---
Faites une pause dans le rythme effréné de votre vie urbaine grâce aux soins à domicile d'Urban. Leur mission est de rendre accessible un rituel bien-être de qualité. A partir de 65€, vous avez le choix parmi une large gamme de massages délivrés par des experts où et quand vous le voulez. Téléchargez l'app ou rendez-vous sur urban.co pour réserver 60min de bien-être.
Urban a également pris des mesures supplémentaires pour rendre les traitements à domicile plus sûrs. Tous les professionnels de l'Urban ont réussi la formation à la sécurité Covid-19 et suivront des mesures de sécurité strictes dès leur arrivée. Cela signifie qu'ils seront équipés de tous les équipements de protection appropriés, y compris une visière et un masque pour vous deux, et ils désinfecteront tout leur équipement avant et après chaque traitement.
Voir ici pour plus d'informations: urban.co/fr-fr/editorial/contribuons-au-bon-deroulement-des-soins-a-domicile/.
VISIT URBAN FRANCE
Redemption Instructions
This gift card expires in 6 months.
Créez un compte via urban.co ou sur l'appli Urban (disponible sur iPhone et Android). Entrez votre code unique à 13 chiffres afin d'échanger la valeur de votre bon contre le traitement de votre choix. Tout crédit restant restera sur votre compte pendant 12 mois et sera appliqué à votre prochain achat.
Si vous avez besoin d'aide, n'hésitez pas à nous contacter ici: urban.force.com/help/s/contactsupport.
Vous pouvez également appliquer le code cadeau à votre compte avant de réserver un soin sur notre application. Il est nécessaire que vous ajoutiez un mode de paiement avant d'utiliser un bon, sinon cela ne fonctionnera pas.
Dans le menu de l'application, sélectionnez "portefeuille"
Sélectionnez «Utiliser le crédit»
Entrez votre code cadeau dans la case
Sélectionnez «Utiliser»
Le montant du crédit correspondant sera ajouté à votre compte pour être utilisé lors de votre prochaine réservation
Pour ce faire sur notre site Web:
Connectez-vous à votre compte
Sélectionnez «Mon compte» dans le menu de droite
Cliquez sur Wallet
Entrez le code du bon dans la section «Donner un code de bon ou un crédit de référence».
Le montant du crédit correspondant sera ajouté à votre compte lors de votre prochaine réservation
Terms and Conditions
Voir ici pour les termes et conditions complets: https://urban.co/fr-fr/legal. Voir ici la FAQ: https://urban.force.com/help.
What is Gift Off?
Gift Off is the quick and easy way to buy digital gift cards in the UK and Europe. With over 850 gift cards available to choose from, you're guaranteed to find the perfect gift every time. What's more, you can earn as you spend with GO Points so you make savings on future purchases.