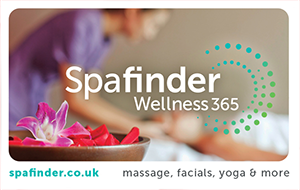 SpaFinder Wellness 365 Gift Card
Redeem online.
This gift card can be redeemed in United Kingdom. You will not earn GO Points when you buy this gift card.
---
'From a countryside wellness break to a moment of relaxation in the city a Spafinder Wellness 365 gift voucher offers you the ultimate choice with over 850 partners to choose from across the UK and 20,000 worldwide.
Spafinder's luxurious Spa partners allow you to use the vouchers to book in without restrictions and choose the treatment that is right for you be it massage, facial, body wraps or even a Yoga or Pilates class. Once you have finished your treatment you can relax in the peace and tranquillity of the Spa, take a soothing Sauna or jump in the Jacuzzi.
What's more their vouchers never expire and you can get some great deals when used in conjunction with the Spa's special offers listed on www.Spafinder.co.uk. So go on treat yourself or a loved one to some relaxation and pampering with a Spafinder Wellness 365 gift voucher.
Luxurious locations include:
Champneys, nationwide
Bannatyne Spa, nationwide
Pennyhill Park Hotel and Spa
Mandarin Oriental Hyde Park
So SPA at Sofitel London St James
Luton Hoo Hotel, Golf & Spa
Whittlebury Hall
Lifehouse Spa & Hotel
The Runnymeade-On-Thames
& many more!
VISIT SPAFINDER WELLNESS 365
Redemption Instructions
This gift card does not expire.
Spafinder Gift Vouchers/Cards may be used with participating Spafinder partners only. Before making an appointment, please confirm the business is a partner. The Gift Voucher/Card can only be redeemed with a single Spafinder partner and must be presented on arrival and before the treatment commences. Gift Vouchers/Cards can be exchanged for services of a higher price than the face value of the Voucher or Card on payment of the difference.
The Spafinder eVoucher and eGift Cards must be printed out and presented at the spa upon arrival, before the treatment. Gift cards and vouchers can only be used once and must be redeemed in full.
Terms and Conditions
Gift Vouchers/Cards are valuable and cannot be replaced in any circumstances. Please keep them in a safe place. Spafinder is not responsible for loss, theft, damage or unauthorised use of Gift Vouchers/Cards.
Spafinder and its promotional partners make no representations or warranties of any nature in relation to any service(s) or product(s) you may receive or acquire with or in connection with a Spafinder Gift Voucher or Card. Spafinder and its promotional partners do not assume any responsibility and shall not be liable, directly or indirectly, for any act(s), omission(s), negligence or breach of contract of any Spafinder partner or any of its employees, agents or contractors or any other third party or for any injury, death, loss, damage, expense, cost, delay or other claim caused by any Spafinder partner or any of its employees, agents or contractors or any other third party.
Please refer to Gift Voucher/Card for the validity period and expiry date. The validity period cannot be extended. Expired Vouchers have no value and cannot be exchanged for another Gift Card or Voucher.
What is Gift Off?
Gift Off is the quick and easy way to buy digital gift cards in the UK, Europe, the US, Canada, Australia and beyond. With over 940 gift cards available to choose from, you're guaranteed to find the perfect gift every time. What's more, you can earn as you spend with GO Points so you make savings on future purchases.