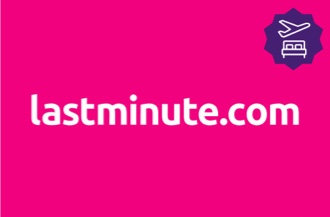 lastminute.com UK Gift Card
Redeem online.
The lastminute.com UK e-gift card can be paid for with credit and debit cards, and digital currencies, like bitcoin, bitcoin cash, ethereum, dogecoin, litecoin or ripple.
This gift card can be redeemed in United Kingdom. You will not earn GO Points when you buy this gift card.
---
Unlock limitless travel possibilities with the new lastminute.com Travel Gift Card. This versatile card offers your ticket to over 400 airlines, 2 million+ hotels, and even European train options. Our cutting-edge dynamic packaging technology enables you to curate your dream getaway effortlessly. No date restrictions. No airport constraints. Simply choose your destination, and if there's a flight and hotel available, the lastminute.com travel gift card will whisk you there.
Our gift card grants a 12-month booking window, allowing you to book domestic and international hotels, flight + hotel packages, and train + hotel packages in partnership with Eurostar.
Something for every wanderlust soul: Whether your plans involve a cozy weekend staycation, an indulgent week in Europe's scenic locales, or an exotic island escape, lastminute.com is your ultimate travel companion, ensuring that wherever your heart desires to go, we'll make it happen.
VISIT LASTMINUTE.COM UK
Redemption Instructions
This gift card expires in 12 months.
Go to www.lastminute.com and select your chosen product from the top menu - "Hotels", "Flight + Hotel" (holiday packages) or "Eurostar" (train + hotel packages).
Enter your search criteria – departure location, destination and travel dates.
Select your preferred option from the search results.
On the booking summary page, fill out the required passenger details and insert your gift card code in the section "Do you have a discount code or voucher?" and click "Apply".
Click "Book now" to confirm your booking. Important: gift card can only be applied before confirming the booking and not as a deposit payment method. If you encounter any issues with a hotel-only booking or with a hotel chosen within a Flight + Hotel package, head to following website: https://www.lastminute.com/en/holiday-vouchers/deals.html.
This gift cards expires 12 months from date of activation. Contact Lastminute.com to check the balance on your gift card. Email: [email protected], Tel: +44 02034995816.
Terms and Conditions
The voucher is only valid for use on our website www.lastminute.com section "Hotel" to book an hotel, "Flight + Hotel" to book a holiday package, section "Eurostar" to book a train + hotel package or any services not mentioned above; The vouchers cannot be used on "Guaranteed connection" flights (indicated in the top right-hand side of the results page). These flights are sold by third party providers, so they cannot be booked using a lastminute.com voucher or gift card; The voucher is valid for 12 months; The voucher cannot be combined with other voucher codes, discounts, promotions or cash back activities; The voucher is only valid for payments settled through lastminute.com website: hotel stays which include an upon arrival payment are excluded from this promotion; The voucher can be used repeatedly until the credit depletion and credit expires or it can be integrated with payment by credit card in case of bookings where the price exceeds the value of the voucher; The voucher cannot be given to third parties, sold or converted into money. It is not partially or wholly reimbursable, even in case of loss or theft. For any assistance request, please contact lastminute.com Customer Care Service writing at the address [email protected] or calling the line +44 0 2034995816 (Monday to Friday, 9-18).
What is Gift Off?
Gift Off is the quick and easy way to buy digital gift cards in the UK, Europe, the US, Canada, Australia and beyond. With over 960 gift cards available to choose from, you're guaranteed to find the perfect gift every time. What's more, you can earn as you spend with GO Points so you make savings on future purchases.