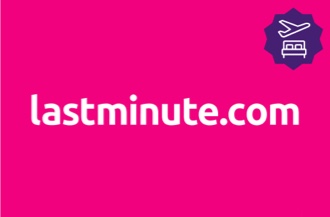 Holidays and Travel

>

Lastminute.com Ireland - Flight + Hotel Packages
Lastminute.com Ireland - Flight + Hotel Packages Gift Card
Redeem online.
The Lastminute.com Ireland - Flight + Hotel Packages e-gift card can be paid for with credit and debit cards, and digital currencies, like bitcoin, bitcoin cash, ethereum, dogecoin, litecoin or ripple.
This gift card can be redeemed in Ireland. You will not earn GO Points when you buy this gift card.
---
With lastminute.com gift cards you have over 400 airlines and 1 million stays across the world at your fingertips. We release hundreds of offers every day so you can be sure you're always travelling at the best possible prices.
lastminute.com has been accompanying travellers along their journey for over 20 years, from the moment they search a holiday to the moment they need help with any last-minute changes. Give yourself, or someone important to you, a lastminute.com gift card: you'll only get unforgettable experiences with us.
VISIT LASTMINUTE.COM IRELAND - FLIGHT + HOTEL PACKAGES
Redemption Instructions
This gift card expires in 5 years.
The trip departure date can be after the voucher expiry date.
It cannot be used in conjunction with other gift cards or discount vouchers issued by us for either promotional purposes or as a reimbursement.
It can only be used on www.lastminute.ie to book flight + hotel packages (services which require payment to be made to a third party on arrival are excluded).
It can be used for multiple bookings, until the full value is redeemed. If the total sum of the booking is less than the value of the Card, the remaining credit can be used for a new booking. Conversely, if the amount of the booking is greater than that of the Card, you can use a valid credit or debit card to pay the outstanding amount.
The Gift Card cannot be used to book flights on the results page with 'Guaranteed connection': these flights are not offered directly by lastminute.com but by a third party partner, so they are not bookable with our Gift Cards.
It cannot be used to reserve hotels or houses where payment must be made directly at the property.
Terms and Conditions
The Gift Card cannot be sold or refunded, even in the event of theft or loss, nor can it be exchanged for money or other goods or services.
It cannot be used to acquire post-sale services once the booking is confirmed.
What is Gift Off?
Gift Off is the quick and easy way to buy digital gift cards in the UK, Europe, the US, Canada, Australia and beyond. With over 940 gift cards available to choose from, you're guaranteed to find the perfect gift every time. What's more, you can earn as you spend with GO Points so you make savings on future purchases.