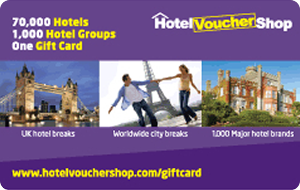 HotelVoucherShop Gift Card
Redeem online.
This gift card can be redeemed in United Kingdom. You will not earn GO Points when you buy this gift card.
---
HotelVoucherShop gift cards can be used at 78,000 hotels, in 5,000 destinations worldwide. Hotel Voucher Shop cardholders can also enjoy members only offers at luxury hotels worldwide. This gift card means you can book your holiday with bitcoin, or give it as a gift to someone who deserves the holiday of a lifetime.
Redemption Instructions
This gift card does not expire.
Terms and Conditions
Terms and conditions: liability for Lost, Stolen or used vouchers All HotelVoucherShop Gift vouchers are cash value and must be looked after by the purchaser and redeemer. All voucher codes can only be used once and HotelVoucherShop is not liable for lost or stolen vouchers or codes used by any other recipient other than the intended recipient for the voucher. Vouchers may only be re-issued back to the purchaser and will be subject to security questions and checks. Re-issued vouchers will be re-sent at the discretion of HotelVoucherShop, should you lose your voucher, we will not guarantee to re-send you a copy. Once any vouchers and voucher codes are used, then the voucher can in NO WAY be refunded even if the user was not the recipient (in the case of lost of stolen voucher codes). Cancellation and refunds of vouchers All vouchers are non-refundable and non-cancellable. Once the voucher is redeemed or used to book a hotel then usual cancellation policies for the hotel will apply and all refunds will be provided in vouchers as we cannot refund part cash and part voucher amounts. Re-instating of vouchers This voucher has no cash value until redeemed against the service of booking a hotel. This voucher is non-transferable and cannot be resold.
What is Gift Off?
Gift Off is the quick and easy way to buy digital gift cards in the UK and Europe. With over 860 gift cards available to choose from, you're guaranteed to find the perfect gift every time. What's more, you can earn as you spend with GO Points so you make savings on future purchases.