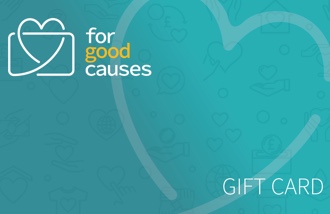 For Good Causes Gift Card
Redeem online.
The For Good Causes e-gift card can be paid for with UK and EU credit and debit cards, and digital currencies, like bitcoin, bitcoin cash, ethereum, dogecoin, litecoin or ripple.
This gift card can be redeemed in United Kingdom. You will not earn GO Points when you buy this gift card.
---
Give the gift of giving with a For Good Causes gift card!
With over 20,000 charities to choose from, your recipient can donate the funds loaded onto their For Good Causes gift card to a cause that's close to their heart or close to their home. The For Good Causes gift card is the perfect, meaningful gift to give to conscientious loved ones who want to make a difference.
Whether you care about finding a cure for cancer, protecting the environment or supporting a local playgroup, there will be a cause to donate to that touches your heart. You get to choose!
Find out more about For Good Causes by visiting their FAQ and About pages.
This gift card is not eligible for GO Points. Please see here for further information: https://giftoff.com/earn-loyalty-points.
VISIT FOR GOOD CAUSES
Redemption Instructions
This gift card does not expire.
If this gift card is not used within 12 months of the issue date, For Good Causes will donate the value, less processing charges, to a UK registered charity of For Good Causes choice.
Donating is quick and easy. Follow the link to donate the funds loaded onto your For Good Causes gift card: https://my.forgoodcauses.org/. Simply enter the gift card code and search for your preferred charity in the search box. Then click, 'Donate Now'. It's as simple as that.
Terms and Conditions
See here for full gift card terms and conditions: https://www.forgoodcauses.org/terms-and-conditions/. Donations can be placed through the For Good Causes website anonymously and they do not hold any data about you. For Good Causes deducts a small commission from each donation to cover the cost of distribution to over 20,000 charities.
To send this gift card to someone else, after completing a purchase, visit your user dashboard (https://giftoff.com/dashboard). Your gift card will be visible there once the order is completed, with a button saying 'Claim your gift card'. Click the button to open the gift card. A new browser window will open, displaying the gift card. Copy the URL / web page address at the top of your browser (it will show as displayyourgiftcard.com, followed by a string of letters and numbers). You can then send an email to your from your usual email address, pasting the URL into the email. When they receive the email, they simply click the link to view and use the gift card.
What is Gift Off?
Gift Off is the quick and easy way to buy digital gift cards in the UK and Europe. With over 870 gift cards available to choose from, you're guaranteed to find the perfect gift every time. What's more, you can earn as you spend with GO Points so you make savings on future purchases.