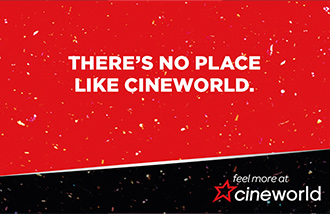 Cineworld Child (2D) Gift Card
Redeem online and in-store.
This gift card can be redeemed in United Kingdom. You will not earn GO Points when you buy this gift card.
---
Cineworld Cinemas is a leading UK multiplex cinema chain and the best way to watch a movie. Watch a huge range of the latest films in comfortable screens in digital 2D, 3D, IMAX, 4DX or VIP in selected cinemas. Cineworld also shows theatre and opera performances. Visit Cineworld.com for film times, ticket bookings, to subscribe to Unlimited cinema, or for corporate events and parties.
VISIT CINEWORLD CHILD (2D)
Redemption Instructions
This gift card expires in 9 months.
Select the cinema and film you wish to book for.
Enter your first eCode in the "Got a ticket voucher code or CEA carer card?" Enter any additional eCodes for any additional tickets you wish to book. The website will automatically recognise the code type you have entered and will auto populate the seats required, you do not need to add tickets to the booking before adding the eCodes.
Select the number of additional tickets you wish to purchase in the same transaction if you do not have enough eCodes to complete your booking. A booking/processing fee per person for whom a seat is booked will be applied to your booking.
Complete the rest of the booking process as instructed.
Your tickets will be available for collection at your chosen cinema as soon as the booking has been confirmed, and remain available until the start of the selected performance. Simply take the same debit/credit card used to book your tickets, or the unique booking reference on your order confirmation, to collect your tickets from one of the ATMs (collection terminal) situated at the cinema or direct from the box office or concession counter. To make the most of your booking, we suggest that you collect your tickets 20 minutes before the performance commences. Tickets not collected 10 minutes after the performance time has started will be cancelled and are non-refundable.
Terms and Conditions
The Cineworld Child 2D eCode may be exchanged for one Child ticket to any 2D performance at any Cineworld cinema in the UK or Republic of Ireland excluding Cineworld Leicester Square and Picturehouse cinemas (the list of cinemas is subject to change, always check movie screening times and availability before travelling); excluding occasions where the cinema has been hired for special performances.
The Cineworld Child 2D eCode is valid for any standard 2D performances. Uplift charges are payable for 3D, 4DX, IMAX, Superscreen, D-Box screenings and Cheltenham Screening Rooms. Uplift charges are also payable at Glasgow – IMAX at GSC. 3D glasses will need to be purchased at an additional cost. The Cineworld Child 2D eCode is not valid for Alternative Content, Special Unlimited Screenings, Special Advance Screenings or VIP/premium seating.
Only children up to and including the age of 14 can use Child eCodes. Proof of age may be required.
The Cineworld Child 2D eCode is valid for a minimum of 9 months from date of issue. Once expired, the eCode will be invalid and cannot be extended, replaced or refunded. It is not replaceable if lost or stolen and no refund will be given.
The Cineworld Child 2D eCode can be redeemed online at www.cineworld.co.uk or in person at the box office. The eCode cannot be used to book using the telephone service. The Cineworld Child 2D eCode does not give the bearer priority over other guests.
When booking online using eCodes (i) debit/credit card information must be provided (for processing purposes) and (ii) a booking/processing fee per person for whom a seat is booked will apply (full terms and conditions available at www.cineworld.co.uk/terms). Customers who do not wish to pay the fee can exchange their Cineworld Child 2DeCode for a ticket in person at the cinema.
Each eCode is considered to have been redeemed when entered at www.cineworld.co.uk and a booking is confirmed. Each eCode may only be used once, attempts to use the same eCode on separate occasions will not be successful.
Admission is subject to availability, normal age restrictions apply – ID may be required, and any other relevant standard terms and conditions including Cineworld's general admission terms apply (www.cineworld.co.uk/terms/in-cinema).
The Cineworld Child 2D eCode may not be used in conjunction with any other offer.
There is no cash alternative; the Cineworld Child 2D eCode is not transferable and may not be re-sold.
TCineworld Cinemas reserve the right to withdraw any offer associated with the Cineworld Child 2D eCode at any time and for any reason, without notice.
Cineworld Cinemas reserve the right at its absolute discretion to refuse admission.
What is Gift Off?
Gift Off is the quick and easy way to buy digital gift cards in the UK and Europe. With over 870 gift cards available to choose from, you're guaranteed to find the perfect gift every time. What's more, you can earn as you spend with GO Points so you make savings on future purchases.