CHRIST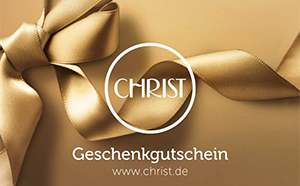 Online
In-store
Phone
This gift card can be used online and in-store.
This gift card can be redeemed in the following countries:
AT & DE only. 3-4 working day delivery.
About CHRIST Gift Cards
For 145 years the name CHRIST has been synonomous with jewellery and watches. The company is built on a brilliant tradition and their roots go back to the year 1863. Therefore, the name CHRIST not only stands for first-class quality and excellent service but also for special jewellery ideas and wonderful shops. There is no other jeweller that offers such a large and international variety of beautiful jewels and fine timepieces in ultra-modern ambience. Even though the range of products is always sophisticated and high-quality, an incomparable shopping experience at CHRIST is affordable for everyone. The fascinating combination of classics and innovative ideas such as brand and design collections makes CHRIST the number 1 German jeweller. Exclusively for Christ, the designer Jette Joop has created her successful collections. High quality, excellent service and attention to detail in over 200 stores across Germany promise true moments of happiness.
Redemption Instructions
This card expires in 36 months.
What is Gift Off?
Gift Off is the quick and easy way to buy digital gift cards in the UK and Europe. With over 350 gift cards available to choose from, you're guaranteed to find the perfect gift every time. What's more, you can earn as you spend with Gift Off Points so you make savings on future purchases. We also accept payment from over 5 digital currencies and UK credit and debit cards.
Browse more gift cards