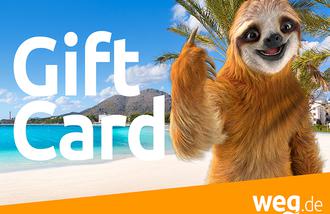 Weg Germany Gift Card
Redeem online.
The Weg Germany e-gift card can be paid for with UK and EU credit and debit cards, and digital currencies, like bitcoin, bitcoin cash, ethereum, dogecoin, litecoin or ripple.
This gift card can be redeemed in Germany. You will earn GO Points when you buy this gift card.
---
Bei weg.de finden Sie darum super Last Minute-Angebote und unschlagbare Frühbucher-Schnäppchen. Für Ihre erholsame Auszeit bietet weg.de Ihnen zudem top bewertete Hotels mit Weiterempfehlungsrate, günstige Flüge sowie Kreuzfahrten, Mietwagen und Skireisen an.
VISIT WEG GERMANY
Redemption Instructions
This gift card expires in 18 months.
Terms and Conditions
Vom ersten Klick bis hin zum Traumurlaub steht weg.de an Ihrer Seite. Beachten Sie: Der Gutschein ist nur gültig für Buchungen von Flug + Hotel - Paketen, die auf https://www.weg.de/staedtereisen verfügbar sind, im Abschnitt "Flug+Hotel" und die mit "Flexi Mix" gekennzeichnet sind. Der Gutschein kann nicht für reine Hotelbuchungen, Last Minute Angebote, Pauschalreisen und andere Reiseangebote außerhalb der Kategorie "Flug+Hotel" genutzt werden. Der Gutschein ist ausschließlich gültig bis zum angegebenen Verfallsdatum, bis zu dem der Flug + Hotel gebucht werden muss. Das tatsächliche Reisedatum kann auch nach Ende des Gültigkeitszeitraums liegen. Mehrere Gutscheine von Amilon können nur vor der Verwendung auf der Seite https://kombinieregutscheine.weg.de/ kumuliert werden. Eine Kombination mehrerer Gutscheine aus verschiedenen Aktionen oder aus anderen Lieferanten ist nicht möglich. Ein bereits teilweise eingelöster Gutschein kann nicht erneut mit anderen Gutscheinen kombiniert werden. Der Gutschein kann nur für Flug + Hotel Buchungen genutzt werden, wenn die Bezahlung über weg.de erfolgen kann. Daher kann er nicht für Hotelbuchungen eingelöst werden, wenn der Aufenthalt direkt vor Ort bezahlt werden muss. Der Gutschein kann so oft angewendet werden, bis sein Saldo vollständig eingelöst wurde. Sollten die Buchungskosten höher als der Gutscheinwert ausfallen, können Sie den Differenzbetrag mit Kreditkarte zahlen.
What is Gift Off?
Gift Off is the quick and easy way to buy digital gift cards in the UK and Europe. With over 880 gift cards available to choose from, you're guaranteed to find the perfect gift every time. What's more, you can earn as you spend with GO Points so you make savings on future purchases.