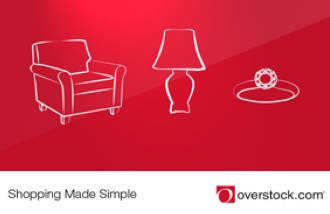 Overstock.com Gift Card
Redeem
The Overstock.com e-gift card can be paid for with credit and debit cards, and digital currencies, like bitcoin, bitcoin cash, ethereum, dogecoin, litecoin or ripple.
This gift card can be redeemed in United States of America. You will not earn GO Points when you buy this gift card.
---
Overstock.com is an online retailer offering a wide variety of high-quality, brand-name merchandise at discount prices, including bedding, home decor, appliances, watches, jewelry, electronics, sporting goods, clothing and shoes. We give customers an opportunity to shop for bargains conveniently, while offering manufacturers, distributors and other retailers an alternative sales channel for liquidating their inventory.
VISIT OVERSTOCK.COM
Redemption Instructions
This gift card does not expire.
To redeem your e-gift card:
At checkout, mark the box "I want to use a gift card" on the payment page.
Input your card number and PIN, and click "Apply".
Any unused balance will be transferred to your Overstock.com account.
Terms and Conditions
Gift Cards cannot be accepted as a payment method on our auctions, cars and real estate sites. Gift Cards are not exchangeable for cash. If your order exceeds the amount on your gift card(s), you must use another form of payment for the difference. Gift Cards cannot be purchased or used by international customers, shipped outside the continental U.S., or used to pay for international orders or products shipped outside the continental U.S. Check your balance by clicking here www.overstock.com/gift-cards/check-gift-card-balance.
What is Gift Off?
Gift Off is the quick and easy way to buy digital gift cards in the UK, Europe, the US, Canada, Australia and beyond. With over 940 gift cards available to choose from, you're guaranteed to find the perfect gift every time. What's more, you can earn as you spend with GO Points so you make savings on future purchases.