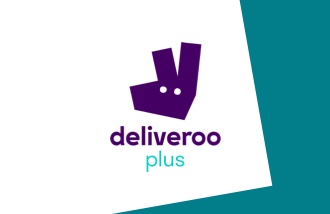 Deliveroo Plus Membership Gift Card
Redeem online.
The Deliveroo Plus Membership e-gift card can be paid for with credit and debit cards, and digital currencies, like bitcoin, bitcoin cash, ethereum, dogecoin, litecoin or ripple.
This gift card can be redeemed in United Kingdom. You will earn GO Points when you buy this gift card.
---
The Deliveroo Plus eGift card allows you to pay a fee and get free delivery from participating restaurants when you meet the minimum order requirements. It's a simple, easy way to get the most out of Deliveroo. Members benefit from exclusive restaurant offers, which aren't available to other customers. Some customers will see the option to sign up to Plus on our website or app. You can place as many orders as you like with a Deliveroo Plus membership and get free delivery!
Please see here for the full Deliveroo Plus FAQ: deliveroo.co.uk/faq#deliverooplus.
The Deliveroo Plus eGift card cannot be used to order food. Please see the regular Deliveroo eGift card for this option.
VISIT DELIVEROO PLUS MEMBERSHIP
Redemption Instructions
This gift card expires in 12 months.
One Deliveroo Plus code can be redeemed per order.
To redeem your Deliveroo Plus eGift Card, enter the unique code on the Gift Card at the checkout when you place your next order and your Deliveroo account will be credited with the amount loaded on your Gift Card. Once credited to a Deliveroo account Gift Cards are non-refundable and non-transferable. In addition, we reserve the right to only talk to the Deliveroo account holder about the Gift Card once it has been redeemed.
Terms and Conditions
Deliveroo Plus Gift Cards may only be redeemed as Plus vouchers for a Deliveroo Plus subscription for a set period. Please see here for full Deliveroo Plus eGift card terms and conditions: deliveroo.co.uk/legal.
What is Gift Off?
Gift Off is the quick and easy way to buy digital gift cards in the UK, Europe, the US, Canada, Australia and beyond. With over 940 gift cards available to choose from, you're guaranteed to find the perfect gift every time. What's more, you can earn as you spend with GO Points so you make savings on future purchases.