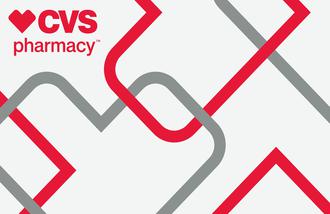 CVS Pharmacy® Gift Card
Redeem in-store.
The CVS Pharmacy® e-gift card can be paid for with credit and debit cards, and digital currencies, like bitcoin, bitcoin cash, ethereum, dogecoin, litecoin or ripple.
This gift card can be redeemed in United States of America. You will not earn GO Points when you buy this gift card.
---
Discover the convenience and endless options of CVS Pharmacy with our gift cards. With over 7,800 locations spanning the nation, CVS Pharmacy is your go-to destination for all your prescription medications and healthcare needs. Not only that, but we offer an extensive selection of popular beauty and personal care brands, along with exclusive brands you won't find anywhere else. Whether you're looking for essential health products or seeking a beauty upgrade, CVS Pharmacy has you covered. Please note that our gift cards cannot be used for online purchases at CVS.com or for any other retailer's gift card or prepaid card that CVS Pharmacy may carry. Experience the convenience and exceptional offerings of CVS Pharmacy with our gift cards today!
VISIT CVS PHARMACY®
Redemption Instructions
This gift card does not expire.
Redeeming your CVS Pharmacy digital gift card is quick and easy. Just follow these step-by-step instructions:
Visit the CVS Pharmacy store: Locate the nearest CVS Pharmacy store by using our store locator on the CVS Pharmacy website or mobile app.
Shop for your desired items: Browse the wide range of products available at CVS Pharmacy, including prescription medications, health care products, beauty brands, and more.
Proceed to the checkout: Once you have selected the items you wish to purchase, proceed to the checkout counter.
Inform the cashier about your digital gift card: Let the cashier know that you have a CVS Pharmacy digital gift card and would like to redeem it.
Provide the gift card details: Share the necessary information required to redeem the gift card, such as the card number and PIN. This information is typically provided in the digital gift card email or on the CVS Pharmacy website.
Enjoy your savings: Once the cashier has successfully processed your gift card, the applicable amount will be deducted from your total purchase. You can enjoy the convenience of using your CVS Pharmacy gift card to cover part or all of your transaction.
Please note that CVS Pharmacy digital gift cards cannot be used for online purchases on CVS.com. They are redeemable in-store only. If you have any questions or encounter any issues during the redemption process, don't hesitate to seek assistance from the store staff. Happy shopping at CVS Pharmacy!
Terms and Conditions
We want to make sure you have all the details about using your CVS Pharmacy® gift card. Here are some friendly terms and conditions to keep in mind:
Use it for your favorite products: Your gift card is perfect for purchasing goods or services at any CVS Pharmacy® store. You can explore our wide range of products and find exactly what you need.
Some exclusions apply: Please note that the gift card cannot be used to buy money orders or prepaid cards. It's also not applicable for online or in-app purchases, credit account payments, or items that require delivery.
Cash redemption when required by law: In most cases, the gift card cannot be redeemed for cash. However, if the law requires it, we'll be happy to assist you.
Reloadable convenience: Feel free to reload your gift card whenever you need to. It's a convenient way to ensure you always have the funds to shop at CVS Pharmacy.
No hidden fees: Rest assured, your gift card doesn't come with any inactivity fees. It's not a credit or debit card, just a hassle-free way to enjoy your shopping experience.
Keep it safe and secure: Treat your gift card like you would cash. It cannot be replaced if lost, stolen, or used without your authorization. So be sure to keep it in a safe place.
We're here to help: If you have any questions or need assistance, don't hesitate to reach out to our friendly Customer Care team at 1-877-295-7777. We're here to make sure your experience is nothing short of excellent.
Remember, by using your gift card, you agree to these terms and conditions. To check your card balance, simply visit www.CVS.com.
What is Gift Off?
Gift Off is the quick and easy way to buy digital gift cards in the UK, Europe, the US, Canada, Australia and beyond. With over 960 gift cards available to choose from, you're guaranteed to find the perfect gift every time. What's more, you can earn as you spend with GO Points so you make savings on future purchases.