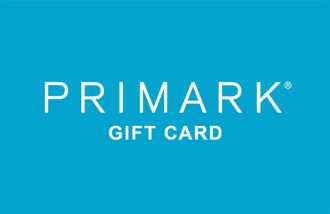 Primark SI Gift Card
Redeem in-store.
The Primark SI e-gift card can be paid for with UK and EU credit and debit cards, and digital currencies, like bitcoin, bitcoin cash, ethereum, dogecoin, litecoin or ripple.
This gift card can be redeemed in Slovakia. You will not earn GO Points when you buy this gift card.
---
Primark, ki ga v enaki meri obožujejo navdušenci nad modo in iskalci ugodnih nakupov kakovostnega blaga, je splošno uveljavljen kot ciljna trgovina za tiste, ki želijo ostati v koraku z najnovejšimi trendi, ne da bi pri tem obubožali. Primark je mednarodni trgovec, ki ponuja najnovejšo modo, lepotne izdelke in izdelke za dom po najboljši ceni za ponujeno vrednost na nakupovalni ulici; preprosto povedano: neverjetna moda po neverjetnih cenah. Primark je svojo prvo trgovino v Dublinu odprl leta 1969. Imenovala se je Penneys. Danes podjetje Primark upravlja več kot 380 trgovin v trinajstih državah po Evropi in Ameriki.
VISIT PRIMARK SI
Redemption Instructions
This gift card expires in 5 years.
Na transakciu môžete uplatniť až 5 darčekových kariet Primark Slovakia. Darčekový poukaz je možné uplatniť iba v krajine vydania.
Terms and Conditions
Veljavno aktivirane darilne kartice je mogoče unovčiti za celotno ali delno plačilo blaga(prodaja na prodajnih avtomatih je izključena) v trgovinah PRIMARK, kjer so na voljo storitve darilnih kartic. V Sloveniji kupljene darilne kartice je mogoče unovčiti samo v trgovinah PRIMARK v Sloveniji. Najmanjši znesek za aktiviranje darilne kartice je 5 EUR, največji znesek stanja na darilni kartici pa 200 EUR. Darilne kartice ni mogoče zamenjati za gotovino ali bone. Vračilo preostanka zneska ni mogoče, vendar vso preostalo stanje se lahko unovči za prihodnje nakupe. Stanje na darilni kartici bo poteklo v roku 5 let po zadnji uporabi darilne kartice. PRIMARK ne odgovarja za izgubljene, ukradene ali poškodovane darilne kartice. PRIMARK si pridržuje pravico, da te pogoje in določila občasno spremeni, če razumno meni, da je to potrebno. Obvestila o takšnih spremembah bodo objavljena v trgovinah. To ne vpliva na vaše zakonsko določene pravice. Za dodatne informacije obiščite spletni naslov www.primark.com.
What is Gift Off?
Gift Off is the quick and easy way to buy digital gift cards in the UK and Europe. With over 850 gift cards available to choose from, you're guaranteed to find the perfect gift every time. What's more, you can earn as you spend with GO Points so you make savings on future purchases.