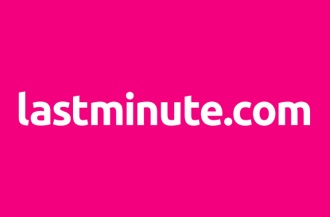 lastminute.com Norway Gift Card
Redeem online.
The lastminute.com Norway e-gift card can be paid for with credit and debit cards, and digital currencies, like bitcoin, bitcoin cash, ethereum, dogecoin, litecoin or ripple.
This gift card can be redeemed in Norway. You will not earn GO Points when you buy this gift card.
---
Experience the world at your fingertips with the Lastminute.com gift card for Norway. Explore over 400 airlines and 1 million accommodations worldwide, all easily accessible through our wide-ranging gift card options. Discover unbeatable daily offers that guarantee you the best possible prices for your dream vacations. With over 20 years of expertise, Lastminute.com is your trusted companion throughout your travel journey, from the moment you start planning your holiday to assisting you with any last-minute changes. Treat yourself or a loved one to the gift of unforgettable experiences with a Lastminute.com gift card. Embrace the excitement of new adventures, create lasting memories, and embark on a journey of a lifetime. Start your travel story with Lastminute.com today and unlock endless possibilities.
VISIT LASTMINUTE.COM NORWAY
Redemption Instructions
This gift card does not expire.
Du kan maksimalt løse inn ett gavekort per transaksjon.
Terms and Conditions
Gavekortet er gyldig i 12 måneder fra utstedelsesdato. Reisens avreisedato kan være etter utløpsdatoen til kupongen.
Det er kun mulig å bruke ett gavekort per bestilling, og det kan ikke brukes sammen med andre kuponger utstedt av oss i forbindelse med kampanjer eller refusjon.
Det kan kun brukes på no.lastminute.com til å bestille flyreiser, fly- og hotellpakker eller innkvartering (tjenester som krever betaling til en tredjepart ved ankomst, utelukkes).
Det kan brukes på flere bestillinger frem til hele verdien er brukt opp. Hvis totalbeløpet for bestillingen er mindre enn verdien på kortet, kan den gjenværende kreditten brukes på en annen bestilling. Hvis beløpet for bestillingen er større enn verdien på gavekortet, kan du bruke et gyldig kreditt- eller debetkort til å betale det utestående beløpet.
Gavekortet kan ikke brukes til å bestille flyreiser på resultatsiden med ""Garantert forbindelse"". Disse flyreisene tilbys ikke direkte av lastminute.com, men av en tredjepart, så de kan ikke bestilles med gavekortene våre.
Gavekort kan ikke selges eller refunderes, selv ikke om de blir stjålet eller går tapt, og kan heller ikke byttes inn mot penger eller andre varer eller tjenester.
Det kan ikke brukes til å reservere hoteller eller hus der betalingen må skje direkte på stedet.
Det kan ikke brukes på ettersalgstjenester etter at bestillingen har blitt bekreftet.
What is Gift Off?
Gift Off is the quick and easy way to buy digital gift cards in the UK, Europe, the US, Canada, Australia and beyond. With over 940 gift cards available to choose from, you're guaranteed to find the perfect gift every time. What's more, you can earn as you spend with GO Points so you make savings on future purchases.