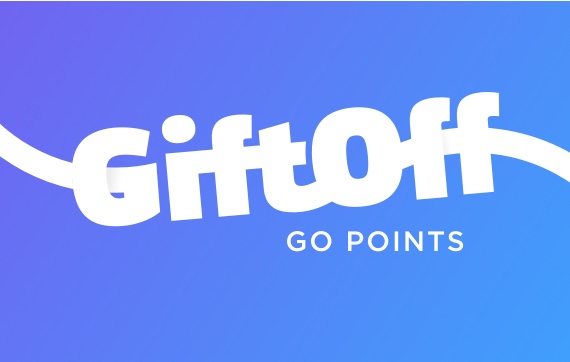 GO Points Gift Card
Redeem online.
The GO Points e-gift card can be paid for with credit and debit cards, and digital currencies, like bitcoin, bitcoin cash, ethereum, dogecoin, litecoin or ripple.
This gift card can be redeemed in Austria, Belgium, Denmark, Estonia, Finland, France, Germany, Ireland, Italy, Latvia, Lithuania, Luxembourg, Netherlands, Portugal, Slovakia, Spain, Sweden, United Kingdom, United States of America. You will not earn GO Points when you buy this gift card.
---
Treat yourself and your friends to a GO Points Card! Our very own gift card allows you to buy GO Points to add to your dashboard, or gift them to a friend's account. The GO Points card allows the recipient to choose the perfect gift card from our huge range of brands. Let them decide where they'd truly like to spend their points.
For digital currency users, the GO Points Card is the perfect way to cut down waiting time when you buy gift cards with us. Load up your dashboard with GO Points, then use them later to buy the gift card of your choice and avoiding waiting for confirmations on the network.
Remember, 500 GO Points is equal to £5. Buy a GO Points Card worth up to 100,000 points (or £1,000). When paying with another currency, such as digital currencies or Euros, an exchange rate will be applied at the time of purchase.
VISIT GO POINTS
Redemption Instructions
This gift card expires in 2 years.
GO Points can be spent on any brand available in our range except the purchase of more GO Points cards. You can add them during checkout to pay for part or all of your order.
You can redeem your GO Points card in your user dashboard here: https://giftoff.com/dashboard. Simply click "Redeem you GO Points" and enter the gift card code. The points will then be added to your total, visible in your dashboard.
To spend GO Points, once redeemed to your account, simply make a purchase at Gift Off and enter your points during the checkout process to discount, or totally pay for, your gift card order.
Any GO Points gift cards purchased on or before 02/11/2020 will not expire. Once redeemed to your account, GO Points expire after 1 year.
There are currently no limits to how many GO Points gift cards you can buy.
Terms and Conditions
Please read these terms carefully before purchasing or using a GO Points gift card. By purchasing or using an E-Gift Card, you confirm your acceptance of these terms. We may change these terms from time to time, so we recommend that you check back regularly. These GO Points gift card terms and any dispute or claim arising out of them are governed by the laws of England and Wales and subject to the exclusive jurisdiction of the English courts.
If you are a registered Gift Off customer, you are eligible to place an order for the purchase of GO Points gift cards ("Order"). Orders may be subject to a minimum Order value. Gift Off may refuse an Order at its discretion, including if Gift Off believes an order is not a genuine purchase.
The GO Points Gift Card balance can only be redeemed to your Gift Off account at https://giftoff.com/ and used to purchase or part-purchase any gift card available in the Gift Off range.
If a purchase exceeds the redeemer's GO Points balance, the remaining amount must be paid for with another payment method.
GO Points gift cards cannot be reloaded, resold, transferred for value, used for unauthorised commercial purposes, or used in a manner otherwise prohibited by our terms and conditions. Unused GO Points gift card balances in a Gift Off account may not be transferred to another Gift Off account.
To view your GO Points gift card balance, please visit your user dashboard here: https://giftoff.com/dashboard.
We reserve the right to change or limit which gift cards can be paid for with GO Points at any time.
Unredeemed GO Points gift cards expire after two (2) years from the time of purchase and the balance will be automatically removed from your GO Points gift card once they reach their expiration date.
Sale of GO Points gift cards is final. They cannot be cancelled or returned.
The risk of loss and title for GO Points gift cards pass to the purchaser upon our electronic transmission of the gift card to the purchaser or designated recipient, or our delivery to the carrier, whichever is applicable. We are not responsible if any gift card is lost, stolen, destroyed or used without your permission.
We will have the right to close customer accounts and take payment from alternative forms of payment if a fraudulently obtained GO Points gift card is redeemed and/or used to make purchases on https://giftoff.com/.
We make no warranties, express or implied, with respect to GO Points gift cards, including without limitation, any express or implied warranty of merchantability or fitness for a particular purpose. In the event a GO Points gift card is non-functional, your sole remedy and our sole liability will be the replacement of such gift card. If applicable law does not allow limitations on implied warranties or the exclusion or limitation of certain damages, some or all of the above disclaimers, exclusions, or limitations may not apply to you, and you may have additional rights.
The full Gift Off terms and conditions apply: https://giftoff.com/terms-and-conditions.
We reserve the right to change these terms and conditions from time to time at our discretion. All terms and conditions are applicable to the extent permitted by law.
What is Gift Off?
Gift Off is the quick and easy way to buy digital gift cards in the UK, Europe, the US, Canada, Australia and beyond. With over 940 gift cards available to choose from, you're guaranteed to find the perfect gift every time. What's more, you can earn as you spend with GO Points so you make savings on future purchases.