Global Hotel Card Egift Card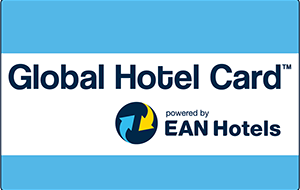 £50.00 - £50.00
Redeem Online
Buy now
Description

The Global Hotel Card Powered by EAN Hotels (Expedia Affiliate Network) is the premier Worldwide Hotel Gift Card.  Whether for your own use or as a gift, choose from over 250,000 hotels worldwide including all the hotel major brands, resorts, destinations, boutique hotels, Bed and Breakfast choices and more at www.GlobalHotelCard.com There are no date restrictions, fees or expiration dates.  Simply apply the value of your gift card toward full or partial payment of the hotel reservation. The balance may be paid with a major credit card.  The Hotel inventory on the website is supplied by EAN (Expedia Affiliate Network) a division within the Expedia, Inc. Group, one of the world's largest travel companies, and trademarks are the property of EAN Worldwide, LLC and are used by license.

Redemption Instructions

Redeemable online only at www.globalhotelcard.com for prepaid bookings at eligible hotels. The Gift Card balance will be reduced by the amount of each purchase. The balance may be paid with a major credit or debit card. Only one Gift Card can be redeemed per online booking.

Terms & Conditions

The Global Hotel Card may be used toward hotel reservations made online only through www.globalhotelcard.com website only. Reservations made are subject to the terms and conditions of GlobalHotelCard.com. Hotel Gift Cards are redeemable for room reservations and taxes only. The total price of your reservation is not guaranteed until the booking is confirmed. Gift Cards will not be redeemed or exchanged for cash, check or credit, except where required by law. Global Hotel Card, Inc. does not replace lost, stolen, or damaged Gift Cards. If the hotel reservation price is greater than the value of the Gift Card, the difference must be paid with a major credit card at the time of booking. If the reservation price is less than the value of the Gift Card, the remaining portion will remain and may be applied toward a future reservation made at www.globalhotelcard.com. For balance inquiries please contact our customer service department by using the green Help Tool at the bottom of the page. For balance inquiries please see website. This Card is issued by Global Hotel Card, Inc., which reserves the right to change any of these terms and conditions from time to time, without notice. Gift Cards do not expire.
What is Gift Off?
Gift Off is the quick and easy way to buy digital gift cards in the UK and Europe. With over 70 gift cards available to choose from, you're guaranteed to find the perfect gift every time. What's more, you can earn as you spend with Gift Off Points so you make savings on future purchases. We also accept payment from over 40 digital currencies and UK credit and debit cards.
Browse more gift cards