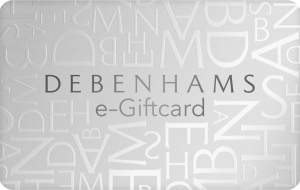 Gift Off Points Eligible
£50.00 - £50.00
Redeem Online and Instore
Buy now
Description

Debenhams is one of the UK's leading Department store groups with nearly 170 stores across the country ensuring that you are never far from a great shopping experience.

We specialise in aspirational fashion for the whole family including exciting own brands, fabulous international brands and of course our famous, and exclusive, Designers at Debenhams collections designed to make cat-walk fashion affordable every day. To complement your fashion choices you can choose from a huge range of fabulous accessories, jewellery, lingerie, gifts, electronics and an unrivalled selection of beauty and fragrance products from the world's leading premium cosmetics houses.

While in store visit our Home department and be inspired by the widest ranges of contemporary bath, bed, dining and kitchen collections, including all the leading names in fine linen, glass, china and furniture to make your house into a home.

Our in-store order kiosks give access to our entire product range, even in our smallest stores; you can enjoy 24-hour shopping online at debenhams.com and for those on the move there is the Debenhams app for both iPhone and android. You can be sure that Debenhams has something to make you look and feel fabulous.

For more information, or to find your nearest Debenhams store, visit debenhams.com or call 08445 61 61 61.

Redemption Instructions

Redeem in-store

Debenhams gift cards that were purchased in £s can be spent in any UK Debenhams store. Please note that you can only use up to four (4) payment methods per purchase in store, e.g. three e-gift cards and one debit/credit/store card.

Redeem Online

Debenhams gift cards that were purchased in £s can only be spent on www.debenhams.com. Simply enter your gift card number and pin in the gift card section on the payment page when you checkout. Please note that only two (2) e-gift cards can be used per transaction.

Terms & Conditions

A sterling currency e-Giftcard can be used as full or part payment for merchandise in Debenhams department stores within the UK and online at debenhams.com.
e-Giftcards cannot be used on the following Debenhams Partnerships websites: debenhamsflowers.co.uk, debenhamscurtains.com, debenhamstailoredshirts.com, debenhamsweddingstationery.com or debenhamsplus.
They may not be exchanged for cash or vouchers, used as a deposit on a credit agreement, used to settle a Debenhams Account Card or to purchase financial or travel services.
The minimum amount required to top-up an e-Giftcard online at debenhams.com is £1. The maximum balance limit is £2,000.
No change or refund will be given when an e-Giftcard is redeemed but any remaining balance may be applied to future purchases.
The balance of an e-Giftcard can be checked in store, online at debenhams.com or by calling 0844 800 9091.
e-Giftcards expire 48 months after the last use or balance enquiry and any remaining balance will be deducted.
Debenhams reserves the right to reject an e-Giftcard that is illegible or incomplete or where, in its sole discretion, it has reason to believe it is not genuine.
e-Giftcard numbers/codes and PINs remain the property of Debenhams (including all intellectual property in the source code).
Debenhams is not liable for any lost, stolen, damaged, undeliverable, incorrectly addressed or delayed e-Giftcards or any network failures. Nor is Debenhams responsible for any e-Giftcard that is used by someone other than the intended recipient after delivery.
It is the responsibility of the purchaser to ensure that any text message, voice message and/or image attached to an e-Giftcard will not cause offence to a recipient, or any person who the purchaser could reasonably have foreseen as potentially reading, seeing or hearing it, and that all subject matter can be legally read, seen or heard in the country or territory where the recipient can reasonably be expected to access it.
Debenhams will not apply any message or data rate charges for sending e-Giftcards or notification texts to mobile devices. However, Debenhams cannot be held liable for any message or data rate charges that may be applied by network operators for receiving e-Giftcards or notification texts on mobile devices.
Debenhams reserves the right to amend these terms and conditions from time to time where it reasonably considers it necessary to do so (e.g. to change the scope of the e-Giftcard service, notify of the service's withdrawal or in the event of circumstances beyond its control). Reasonable notice of such changes will be given where possible.
There is no right to cancel an e-Giftcard purchase once the e-Giftcard has been spent in full or in part.
By purchasing and or using a Debenhams e-Giftcard you accept and agree to these terms and conditions.
What is Gift Off?
Gift Off is the quick and easy way to buy digital gift cards in the UK and Europe. With over 40 gift cards available to choose from, you're guaranteed to find the perfect gift every time. What's more, you can earn as you spend with Gift Off Points so you make savings on future purchases. We also accept payment from over 40 digital currencies and UK credit and debit cards.
Browse more gift cards