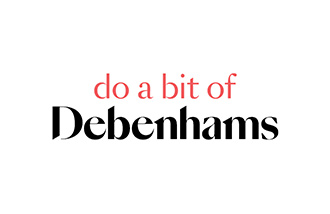 Debenhams Gift Card
Redeem online and in-store.
The Debenhams e-gift card can be paid for with UK and EU credit and debit cards, and digital currencies, like bitcoin, bitcoin cash, ethereum, dogecoin, litecoin or ripple.
This gift card can be redeemed in United Kingdom. You will earn GO Points when you buy this gift card.
---
Debenhams is one of the UKs favourite department stores, offering a wide range of clothing, beauty products, accessories, and more! You know you're getting quality when you shop at Debenhams. With an exciting portfolio of high end brands and household names, there's plenty of products to save money on with a Debenhams gift card. Since being founded in the 18th century as a single store in London, they've grown to have nearly 200 locations across the UK.
VISIT DEBENHAMS
Redemption Instructions
This gift card expires in 24 months.
2 EASY WAYS TO REDEEM YOUR e-GIFTCARD AT DEBENHAMS
Online purchase
When paying for your purchase at debenhams.com select the 'Pay with a gift card or e-gift card' option and enter your e-Giftcard number in the 'gift card number' section and your PIN in the 'PIN' section. Any unused amount remaining on your e-Giftcard can be applied to future purchases. Shop debenhams.com.
In-store purchases
Print this e-Giftcard page and take it with you to any Debenhams store
Terms and Conditions
This e-Giftcard can be used as full or part payment for merchandise in Debenhams department stores within the UK and online at debenhams.com. However, exclusions apply so please go online for full terms and conditions.
This e-Giftcard may not be exchanged for cash or vouchers, used as a deposit on a credit agreement or to purchase financial or travel services.
The minimum amount required to top-up an e-Giftcard online is £1. The maximum balance limit is £2,000.
No change or refund will be given when this e-Giftcard is redeemed but any remaining balance may be applied to future purchases.
The balance of this e-Giftcard can be checked in store, online or by calling 0344 800 9091.
e-Giftcards expire 24 months after the last use or balance enquiry and any remaining balance will be deducted.
Debenhams reserves the right to reject an e-Giftcard that is illegible, incomplete or where, in its sole discretion, it has reason to believe it is not genuine.
e-Giftcard numbers/codes and PINs remain the property of Debenhams (including all intellectual property in the source code). 9. Debenhams is not liable for any lost, stolen or damaged e-Giftcards.
Debenhams reserves the right to amend these terms and conditions from time to time where it reasonably considers it necessary to do so (e.g. to change the scope of the e-Giftcard service, notify of the service's withdrawal or in the event of circumstances beyond its control). Reasonable notice of such changes will be given where possible.
By using this e-Giftcard you accept and agree to the full e-Giftcard terms and conditions available at debenhams.com.
What is Gift Off?
Gift Off is the quick and easy way to buy digital gift cards in the UK and Europe. With over 850 gift cards available to choose from, you're guaranteed to find the perfect gift every time. What's more, you can earn as you spend with GO Points so you make savings on future purchases.