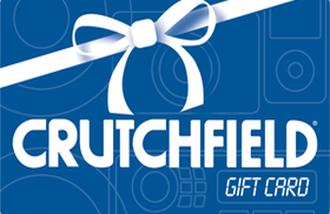 Crutchfield Gift Card
Redeem online and in-store.
The Crutchfield e-gift card can be paid for with credit and debit cards, and digital currencies, like bitcoin, bitcoin cash, ethereum, dogecoin, litecoin or ripple.
This gift card can be redeemed in United States of America. You will not earn GO Points when you buy this gift card.
---
Get the finest gear from Crutchfield, North Americas Electronics specialist since 1974. Call 1-800-955-3000 to redeem your cards and get personalized expert guidance from our Advisors. Or redeem your cards at crutchfield.com or at any Crutchfield retail store.  Theres no expiration date and no fees. Use the cards yourself, or let your friends and family members shop for the gear they really want, all while experiencing our great service at Crutchfield. And, as a bonus, we offer free tech support on any item you purchase, so were there to help if you have any questions when yo'ure setting up your new gear.
VISIT CRUTCHFIELD
Redemption Instructions
This gift card does not expire.
Terms and Conditions
You may redeem this eGift Card at any Crutchfield location in the US, including Outlet stores, and crutchfield.com. Your acceptance and use of this gift card constitutes acceptance of these terms and conditions. This card is redeemable only at Crutchfield. This card cannot be transferred to any other party, cannot be redeemed for cash except where prohibited by law and cannot be applied as payment to any prior purchase or payment plan. Crutchfield corporation is not responsible for lost, stolen or unauthorized use of this card. This card does not expire. It is not subject to any loss of value, including dormancy fees, for non-use. The terms and conditions of this card are subject to change at any time without prior notice and are issued in US funds by Crutchfield Corporation. Virginia law applies. PLEASE TREAT THIS EGIFTCARD LIKE CASH AND SAFEGUARD IT ACCORDINGLY.
DISCLAIMER: *Crutchfield is not a sponsor of the rewards or otherwise affiliated with this company. The logos and other identifying marks attached are trademarks of and owned by each represented company and/or its affiliates. Please visit each company's website for additional terms and conditions.
What is Gift Off?
Gift Off is the quick and easy way to buy digital gift cards in the UK, Europe, the US, Canada, Australia and beyond. With over 940 gift cards available to choose from, you're guaranteed to find the perfect gift every time. What's more, you can earn as you spend with GO Points so you make savings on future purchases.