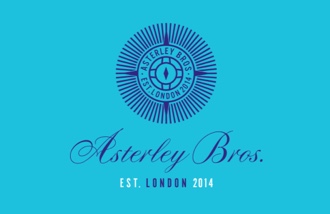 Asterley Bros Gift Card
Redeem online.
The Asterley Bros e-gift card can be paid for with credit and debit cards, and digital currencies, like bitcoin, bitcoin cash, ethereum, dogecoin, litecoin or ripple.
This gift card can be redeemed in United Kingdom. You will earn GO Points when you buy this gift card.
---
Asterley Bros are two brothers based in South London who fell in love with world of Italian liqueurs when the older brother, Rob, married into a Sicilian family. The tried their hands making Italian liqueurs for a number of years and eventually decided to create a range of English twists on the classic favourites of vermouth, amaro and negronis. They have since gone from strength to strength, with their products now being stocked in Fortnum's and Harvey Nichols, as well as gracing the cocktail lists of some of the World's Top 50 Best Bars. Their Creative Director, Joe Schofield has won the 'World's Best Bartender' award, voted by his peers, and develops all the Asterley Bros Cocktail Range. Artisan, small batch liquids, handmade with integrity, meet one of the best cocktail makers in the world. Who could wish for more!
VISIT ASTERLEY BROS
Redemption Instructions
This gift card does not expire.
You can redeem up to 5 Asterley Bros e-gift cards at one time. This gift card does not expire.
Terms and Conditions
This E-Gift Card can be used as full or part payment for any goods on the Asterley Bros website. Values stored on E-Gift Cards are non-refundable and cannot be exchanged for cash. Lost or stolen E-Gift Cards cannot be replaced, protect this E-Gift Card like cash. This E-Gift Card is issued by The Asterley Bros, London LTD, Keynote Studios, 62 Dalmain Road, London, SE23 1AT. Purchase and use of this E-Gift Card constitutes acceptance of our Terms and Conditions. For full terms and conditions, please visit www.asterleybros.com.
What is Gift Off?
Gift Off is the quick and easy way to buy digital gift cards in the UK, Europe, the US, Canada, Australia and beyond. With over 940 gift cards available to choose from, you're guaranteed to find the perfect gift every time. What's more, you can earn as you spend with GO Points so you make savings on future purchases.