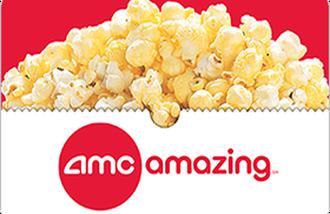 AMC Theaters Gift Card
Redeem online and in-store.
The AMC Theaters e-gift card can be paid for with credit and debit cards, and digital currencies, like bitcoin, bitcoin cash, ethereum, dogecoin, litecoin or ripple.
This gift card can be redeemed in United States of America. You will not earn GO Points when you buy this gift card.
---
Help your friends and loved ones favorite movie stars come to them, by giving them the gift of entertainment – AMC® Gift Cards!
AMC Gift Cards are good for both movies and concessions and are reloadable at any theatre in the United States. Even better, AMC Gift Cards do not have any associated fees or expiration dates so your gift spans the test of time. In the words of "Cousin Eddy" from "National Lampoons Christmas Vacation:" "Thats the gift that keeps on giving the whole year." AMC, the first in the exhibition industry to offer personalized gift cards, was also the first in the industry to launch circuit-wide gift cards in 2002. We think thats pretty cool too. Headquartered in Kansas City, Mo., AMC Entertainment Inc. is a leading theatrical exhibition and entertainment company. With a history of industry leadership and innovation dating back to 1920, the company today serves hundreds of millions of guests annually through interests in 350 theatres with over 5,000 screens in four countries.
VISIT AMC THEATERS
Redemption Instructions
This gift card does not expire.
Terms and Conditions
Usable up to balance only to buy goods or services at any AMC Theatres®, AMC Loews®, AMC Showplace, Cineplex® Odeon, Magic Johnson and Star theatres in the U.S. Not usable to purchase gift cards. Not redeemable for cash unless required by law. Not a credit or debit card. Safeguard the card. It will not be replaced or replenished if used without authorization. If lost or stolen, replacement card with remaining value requires original proof of purchase. AMC Card Processing Services, Inc. ("AMC CPS, Inc") is the card issuer and sole obligor to card owner. AMC CPS, Inc. may delegate its issuer obligations to an assignee, without recourse. If delegated, the assignee, and not AMC CPS, Inc., will be sole obligor to card owner. Purchase, use or acceptance of card constitutes acceptance of these terms. For balance or other customer service inquiries, visit any AMC theatre, log on to amctheatres.com or call 1.800.255.0311.
DISCLAIMER: *AMC is not a sponsor of the rewards or promotion or otherwise affiliated with this company. The logos and other identifying marks attached are trademarks of and owned by each represented company and/or its affiliates. © 2018 AMC International, Inc. The AMC logo is a registered trademark and copyrighted work of AMC International, Inc
What is Gift Off?
Gift Off is the quick and easy way to buy digital gift cards in the UK, Europe, the US, Canada, Australia and beyond. With over 940 gift cards available to choose from, you're guaranteed to find the perfect gift every time. What's more, you can earn as you spend with GO Points so you make savings on future purchases.