Amazon.it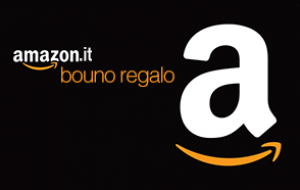 Online
In-store
Phone
This gift card can only be used online.
This gift card can be redeemed in the following countries:
About Amazon.it Gift Cards
I Buoni Regalo* Amazon.it possono essere utilizzati per milioni di articoli su www.amazon.it. La vasta selezione di prodotti Amazon.it include Libri, Elettronica, Musica, Film e TV, Abbigliamento, Video Giochi, Software, Sport e Tempo libero, Giocattoli, Computer e Ufficio, Casa e Giardino, Orologi, Foto e Videocamere e altro. Amazon.it è il luogo dove trovare e scoprire tutto ciò che vuoi comprare online ad un prezzo conveniente.
*Restrizioni applicate. Vedere l'offerta per dettagli.
Redemption Instructions
Per aggiungere un Buono Regalo a Il mio account:
Visita la pagina Aggiungi un Buono Regalo al mio account.
Digita il codice del tuo Buono Regalo nel riquadro sotto a Inserire il codice del Buono Regalo e clicca il pulsante Aggiungi al mio account.
Terms and conditions
*Buoni Regalo Amazon.it venduti da Digital Gap Ltd, un rivenditore autorizzato dei Buoni Regalo di Amazon.it. Amazon, Amazon.it, il logo Amazon.it, e il logo Smile sono marchi registrati e depositati di Amazon EU Sarl e sue società affiliate. I Buoni Regalo Amazon.it possono essere utilizzati sul sito Amazon.it per l'acquisto di prodotti elencati nel nostro catalogo on-line e venduti da Amazon.it o da qualsiasi altro venditore attraverso Amazon.it. I Buoni Regalo non possono essere rimborsati in contanti, rivenduti o trasferiti ad altro account. Amazon.it non è responsabile per lo smarrimento, il furto, la distruzione o l'uso non autorizzato dei Buoni Regalo. I termini e le condizioni d'uso sono disponibili su: www.amazon.it/gp/gc. I Buoni Regalo sono emessi da Amazon EU Sarl © 2012.
What is Gift Off?
Gift Off is the quick and easy way to buy digital gift cards in the UK and Europe. With over 170 gift cards available to choose from, you're guaranteed to find the perfect gift every time. What's more, you can earn as you spend with Gift Off Points so you make savings on future purchases. We also accept payment from over 5 digital currencies and UK credit and debit cards.
Browse more gift cards